The Tournaisian specialities and craft products make the reputation of the city, beyond its borders. Whether salty or sweet, "made in Tournai" gastronomy often has a hidden history behind it and is part of the culinary heritage of Tournai! A brief overview of some of the specialities that you can taste during your stay in our city... Our sweet & salty specialties
Our sweet specialties

Ballons Noirs
Created in 1834, it is a black, hard candy made from 3 different types of sugar.

Desobry Biscuits (Desobry cookies)
Available in magnificent decorated metal boxes, part-chocolate biscuits accompany your coffee.

Couque Abeille
Bee-shaped brioche, a reference to Childeric's bees.

Faluche
The faluche is a small, flat white bread - a real treat at breakfast with butter and/or light brown sugar.

Gâteau Clovis (Clovis cake)
Created in homage to the Merovingian king, the Clovis cake is a frangipane cake filled with apricot and pineapple compote.

Gaufrettes fourrées
Waffles filled with vanilla, light brown sugar, speculoos or 'Grand Marnier', based on the original recipe from a biscuit factoryfounded more than a hundred year ago.

Palet de Dames
Round biscuits covered with apricot jam and glazing.

Pichou
This small brioche-type bread with candied fruits is only baked for carnival.

Ficelle picarde
Salty pancake stuffed with ham, mushrooms and whipped cream.

Mutiau
Sort of head cheese, or brawn, made with pork cheek and calf's tongue and complemented by spices, garlic and parsley.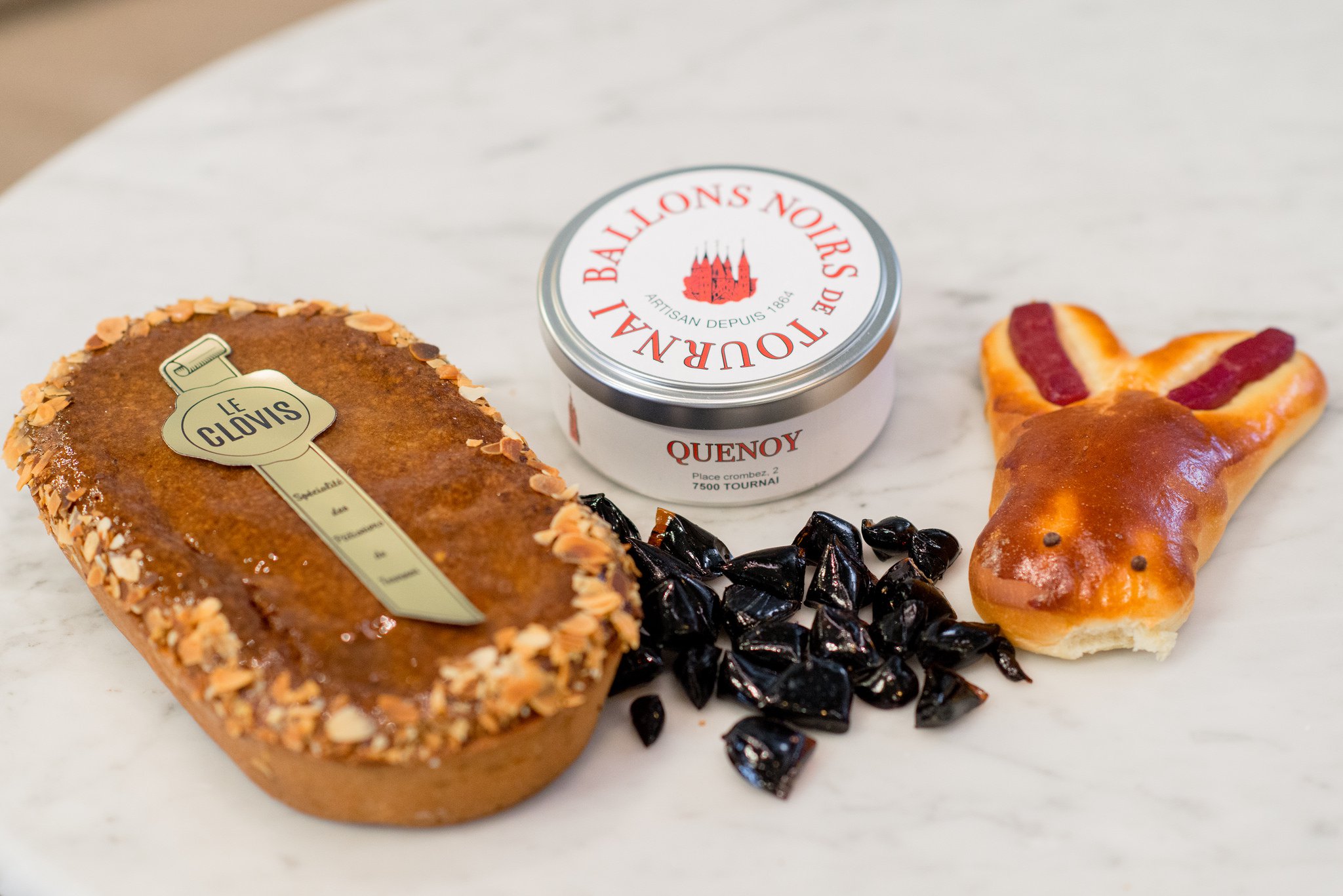 2
Le Lundi Perdu, le 3e réveillon des Tournaisiens...
Our typical dishes
A must-see tradition in the Cité des 5 Clochers, which takes place on the Monday of January following the Epiphany.
First course: the small sausage, served with compote or cabbage cooked in lard.
Second course : Tournai style rabbit - a tradition from the Middle-Ages
Rabbit cooked with prunes and grapes, a dish traditionally served on "Lost Monday", the first Monday following the Epiphany.

Third course : Tournai salad
Lamb's lettuce(corn salad) , onions baked in oven and then peeled, apples, Belgian endives, red cabbage with vinegar, beans and seasoning… 13 different ingredients according to tradition.

Fourth course : the essential "galette des rois" (kings cake) which contains a "fève" (charm) hidden inside.
While the tradition persists among families, more and more restaurants are also organizing their "lost Monday" meals and receiving guests ready to celebrate on this famous Monday in January! Do not hesitate to contact the tournaisian restaurants to book your table.... 2